BAS Relief
First, we start with a photograph. We can use almost any quality photograph, however the better the image the better the modeling effort. The finished image will be an artist's 3D interpretation of your photograph.
After that an image of the clay model is sent via email.  You can comment or approval. When approved the clay model is used for either the bronze or aluminum casting process.
The BAS relief is mechanically attached to the plaque background. Standard overall height is 6″ to 12″ with a finished depth of 3/4 inch to 1 inch. 
BAS Relief is available for an additional charge it requires a six-week lead time. Please call for a quote!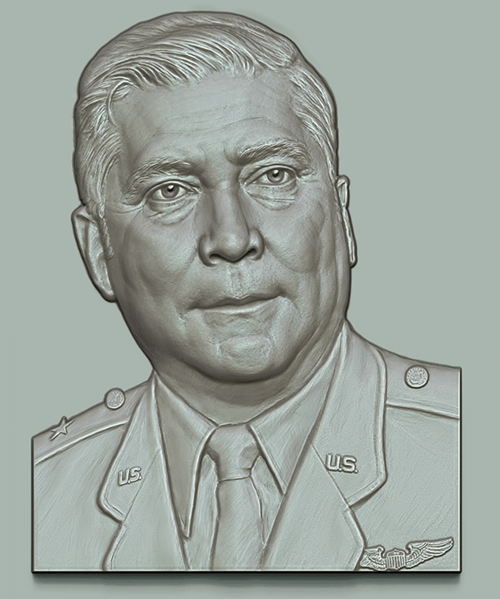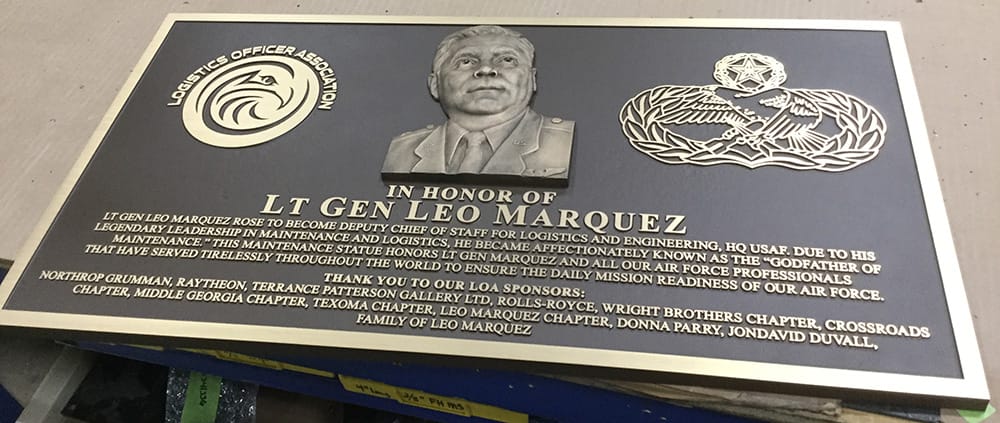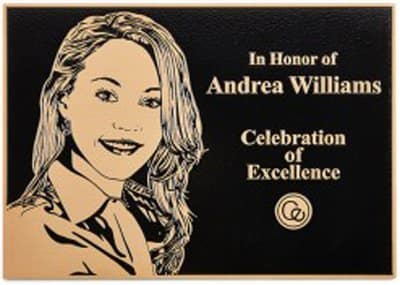 Flat Relief
Flat relief plaques are available for an additional charge. Please call for a quote!
An alternative to the expense and time-consuming process of bas relief. The process starts with a good quality photograph or illustration from which our craftsmen create a black and white rendering. Suitable for interior or exterior applications, they perfectly fit the bill when your project requires a portrait but the budget won't allow for bas relief.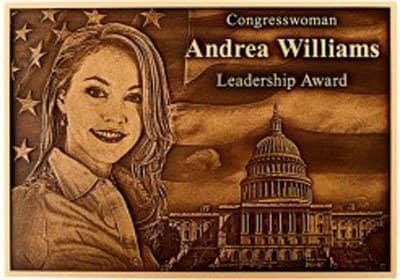 PhotoRelief™
A seamless blend of casting and photography, PhotoRelief™ is perfectly suited for unique signage, historical markers, or any plaque that needs to tell a story with words and pictures.
Through All Star Bronze's innovative technologies, we can use one or more photographs to create a simple and elegant plaque or a breathtaking collage that illustrates the saying "
a picture is worth a thousand words.
"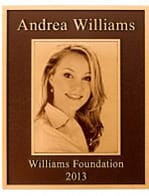 Etched Portrait on Metal
The etching process allows you to forever replicate your photograph, line drawing or complex artwork in beautiful detail. This method utilizes, a halftone dot pattern made from a 50-line screen. Halftone portraits resemble newspaper photographs, and have visible dot patterns. The etched, recessed dots filled with black ink to contrast with the brushed finish of the metal background. The best photographs for halftone etched portraits have high contrast tones with bright white areas, dense black areas and minimal gray tones (photos that are monotone or have muted colors will produce poor halftone etchings). Etchings are available in stainless steel, bronze, brass and copper.
Color Print on Metal (Giclee)
Color print is high quality reproductions of works of art utilizing high-resolution inkjet printers. All Star Bronze can use this process to apply your images as inserts into you architectural plaques. Images and logo need to be vector art. Our giclee prints render UV-cured, non-elastic inks at up to 1200 dpi resolution. The combination of our high-resolution printing, abrasion-resistant clear coat and premium base materials results in a picture perfect product that is excellent for indoor applications and even some exterior ones.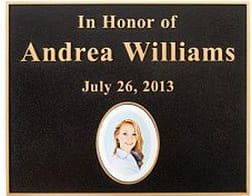 Ceramic Inserts
Ceramic Inserts are available for an additional charge. Please call for a quote.
Add an image to your plaque by choosing a ceramic insert. All Star Bronze can apply a full-color digital transfer to a standard-sized blank ceramic base, available in oval, round and rectangular shapes. Ceramic inserts can also be printed for medallion plaques.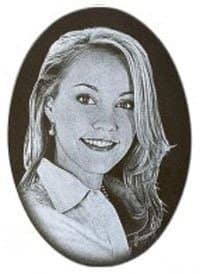 Laser Engraved Polished Black Granite
All Star Bronze can engrave your artwork or copy onto polished black granite, which is suitable for interior or exterior applications.
Choose from 11 common shapes and sizes for the base material. Utilize the six rectangle or square sizes in tandem to produce artwork over a larger surface area than our maximum single piece size of 18" x 24".
LOGOS & EMBLEMS
Note: Vector based art is required.
(L)14″ x 7″ Bronze, Brown Leatherette Texture, Custom Cast Border
(R)15″ x 11″ Aluminum, Green Painted background, double line border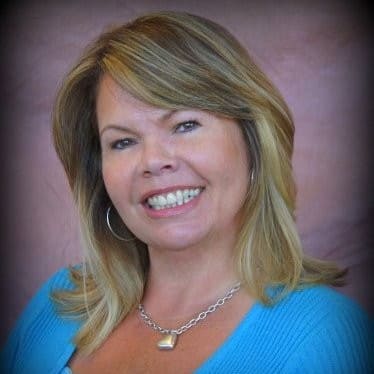 With over 10 years in the custom plaque business, Roxanne has helped thousands of customers create their vision on a forever bronze or aluminum plaque!  

- Roxanne Gillard, VP of Sales
ALL STAR BRONZE CUSTOM SIGNS GUARANTEED FOR LIFE
Custom Size & Shape
Standard Border & Brushed Finish
One Standard Background Color
One Artwork Proof
Standard Hardware and Rosettes
Appropriate Packaging
8 to 10-day Production Time
(after art approval)
SPECIALTY FEATURES
(Additional Charges)
Custom Border
Each Additional Color
Each Custom Color
Brass
Polished Face
Polished Bevel Edge
Oxidized Finish
Patina Finish
Double-sided Plaques
ADDITIONAL OPTIONS
(Additional Charges)
Full-size Plot Drawing
Patterns for Mounting
Borders & Finishes
Post & Stake Mounts
Image Options & Inserts