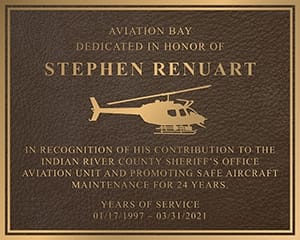 Bronze Dedication Plaques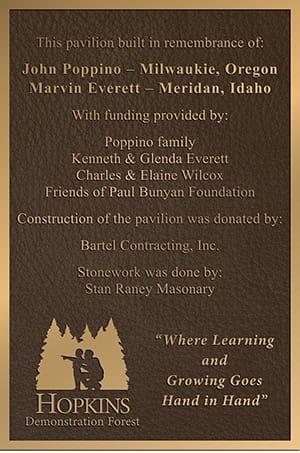 Bronze Plaques For Buildings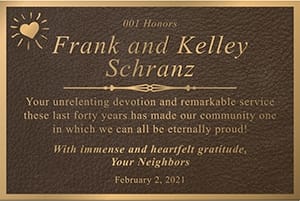 Bronze Commemorative Plaques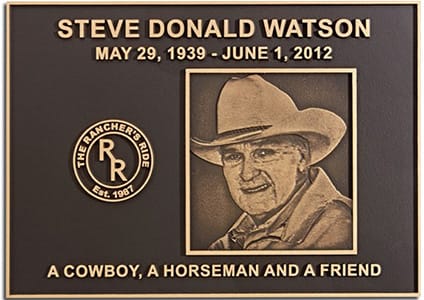 Custom Bronze Dedication Plaque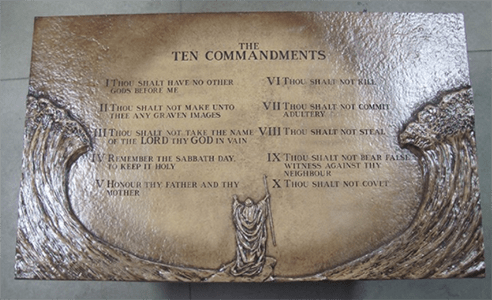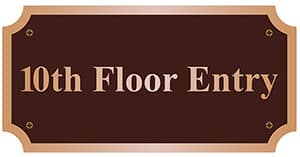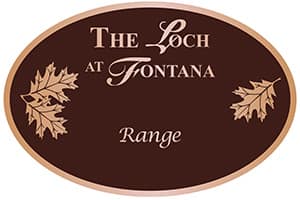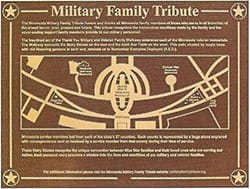 Military Recognition Plaque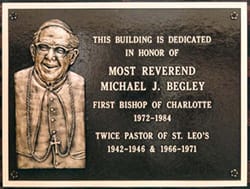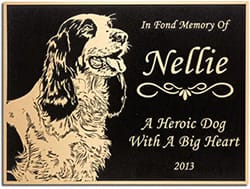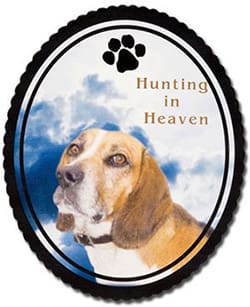 Color Memorial Pet Plaque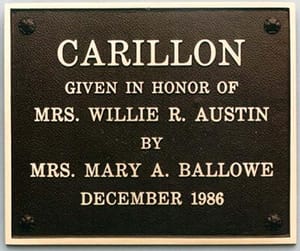 Bronze Recognition Plaque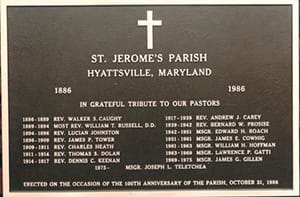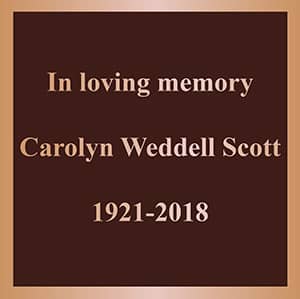 6″ x 6″ Bronze Memorial Plaque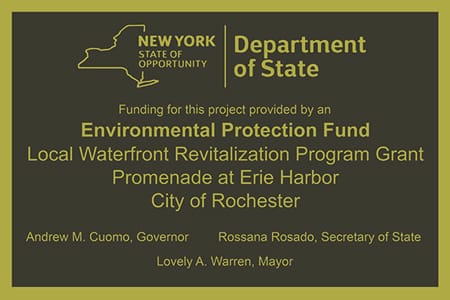 Custom Building Wall Plaque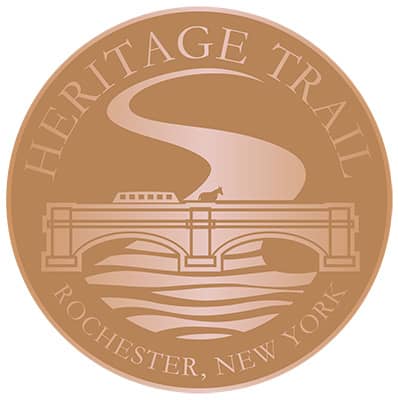 Bronze 18″ Diameter Plaque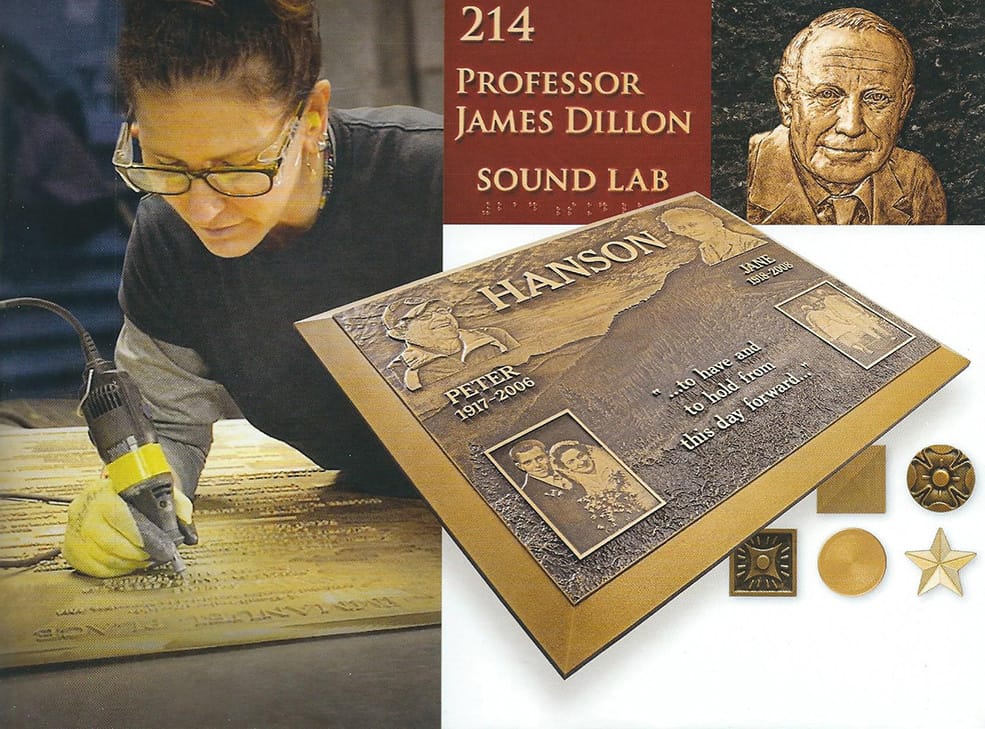 Incredible variety USA made custom bronze plaques. Get great deals on bronze signs. Bronze plaques near me it is All Star Bronze because it's all done online Just call for a quote. Plaques used for commemoration, in government or university settings. Custom signs help make a sense of integrity. Cast or engraved bronze plaques are of the highest quality. Cast plaques cannot be matched with their distinction and permanence. We are experts on our bronze plaque engraving for example memorial plaques. All bronze signs produced in 10-12 days either cast or precision-tooled. Cast bronze signs convey an enduring sense of quality and tradition. Cast metal plaques will last forever they have a lifetime Guarantee. Custom plaques are priced by size all the text that fits is included in the price. Highest quality bronze dedication plaques. Call Roxanne she will do all the work. Ask Roxanne about your bronze plaque options which there are many. Bronze casting costs are determined by the size of the plaque.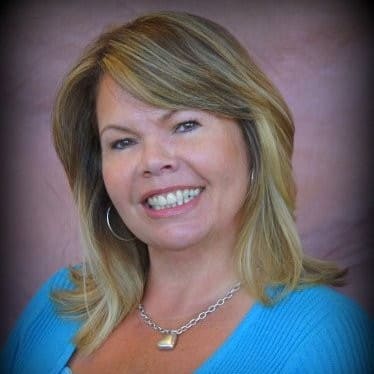 With over 10 years in the custom plaque business, Roxanne has helped thousands of customers create their vision on a forever bronze or aluminum plaque!  

- Roxanne Gillard, VP of Sales
Bronze Plaques With Photo 18″w x 12″h
Dark Oxide Painted
Custom Bronze Plaques
We can produce a custom bronze plaques in 10-12 business days in addition if you need it sooner we offer a 5 day-rush. Add a photo, logo, or emblem to the plaque. The building dedication sign will be custom manufactured to your exact specifications. What is the cost of bronze plaques? Plaques are priced by the size of the plaque all the text that fits is included. Get a low quote today.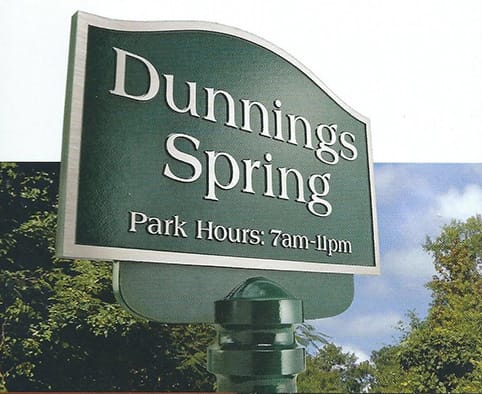 Memorial Plaques
Our professional staff will evaluate the details of your memorial plaque order and recommend options. Meanwhile our quick turnaround time means that you do not have to wait to recognize a loved one. With an engraved plaque, or custom plaques we'll work quickly and efficiently to get you the custom plaques you need. Each of our plaques and welcome signs for church comes with lifetime guarantees. Cost of bronze plaques? It goes by plaque size. All the text that fits is included in the prize. Get great deals on affordable grave markers.
Memorial Plaque 10″w x 8″h Single Line Border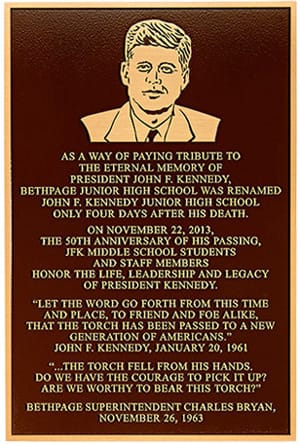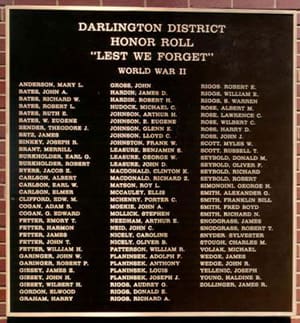 Custom Dedication Plaques For Buildings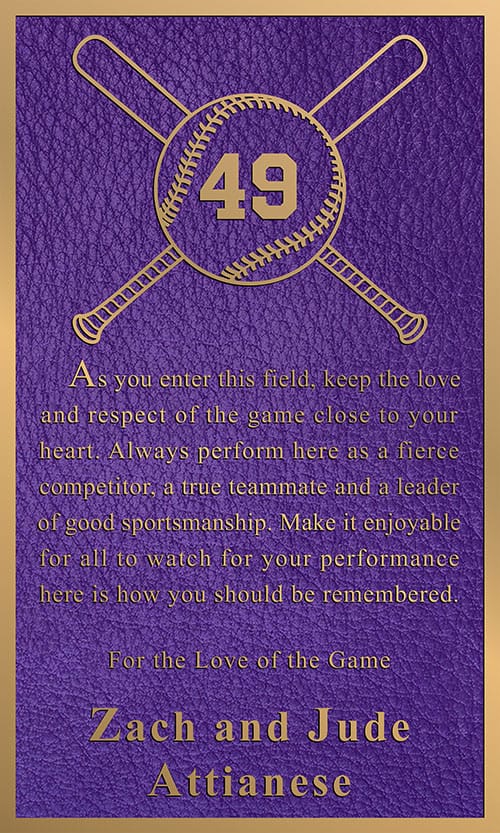 Custom Bronze Wall Plaque With Logo 12″w x 20″h Purple Leatherette Background
Custom Signs
Bronze plaque options, 11 different finishes to choose from including either polished, painted, or oxidized coatings. You do not have to worry about toxic chemicals in the metal because we only use earth-friendly lead- and mercury-free alloys in all signs. 
The quality of your logos and emblems can say a lot about your business which is why we also carry cast or precision tools to make clean professional etchings is made specifically to either meet your standards or meet your vision.  
Bronze portrait plaques available in all sizes including bas relief plaque and bronze relief plaques.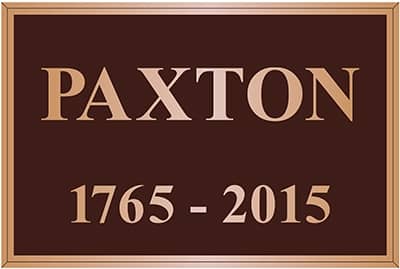 Custom Bronze Memorial Sign 12″w x 8″h Single Line Bevel Border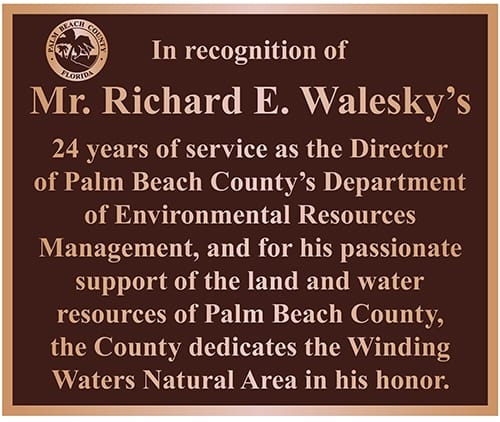 Bronze Recognition Sign 12″w x 10″h
Single Line Border
Bronze School Sign 12″w x 12″h
Single Line Border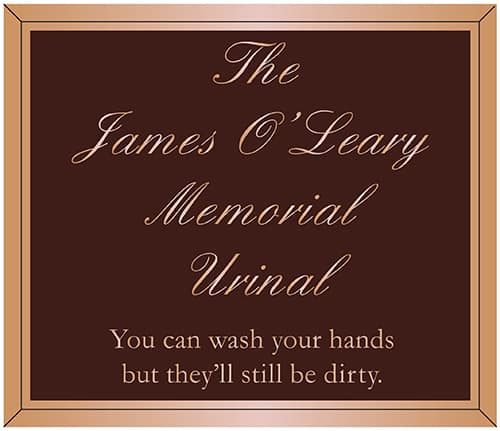 Custom Dedication Plaque 7″w x 6″h Bevel Border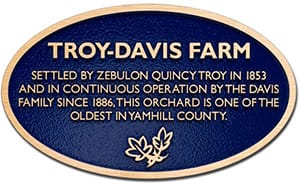 Bronze Sign With Blue Background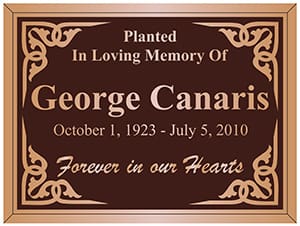 Bronze Tree Plaque 8″w x 6″h
Double Line Bevel Border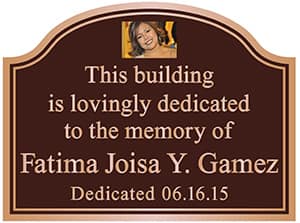 Custom Plaques
Double Line Border With Color Photo
What are our bronze plaques prices? It depends on the size all plaques are priced by size text is included in plaque price. Lowest prices on all plaques. We have the best dedication plaques, and bronze commemorative plaques. Highest quality custom building plaques and custom building wall plaques. Get great deals on building dedication plaques.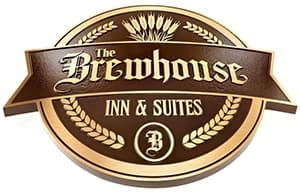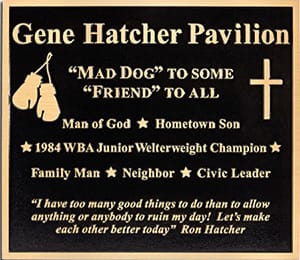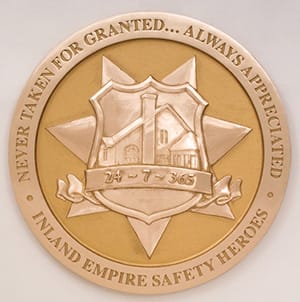 Commemorative Plaques For Buildings
ALL STAR BRONZE CUSTOM SIGNS GUARANTEED FOR LIFE
Custom Size & Shape
Standard Border & Brushed Finish
One Standard Background Color
One Artwork Proof
Standard Hardware and Rosettes
Appropriate Packaging
8 to 10-day Production Time
(after art approval)
SPECIALTY FEATURES
(Additional Charges)
Custom Border
Each Additional Color
Each Custom Color
Brass
Polished Face
Polished Bevel Edge
Oxidized Finish
Patina Finish
Double-sided Plaques
ADDITIONAL OPTIONS
(Additional Charges)
Full-size Plot Drawing
Patterns for Mounting
Borders & Finishes
Post & Stake Mounts
Image Options & Inserts